CoreLogic News | Aug 11 2020: Serious delinquency rate could quadruple by end of 2021
We understand circumstances and available cash flow priorities change. And we realize you may find yourself unable to make mortgage payments each month and service other secured & unsecured debt along with normal living expenses. That's why we're here—to help you through difficult times.
« You Must Act Quickly & Decisively »
What's at risk if you don't act?
Potential

severe

legal & tax liability exposure

.
Untimely forced move from your property.
I will fully explain your options in order to define and mitigate any liability exposures. Together, we will set and act on practical strategies. With 30+ years expertise in these matters, my representations are tried & tested. They serve as the foundation for informed decision making.
---
If you're having trouble paying your mortgage, you have OPTIONS:
You have QUESTIONS. You have OPTIONS. We have ANSWERS. 
I will quickly help you embrace options so you can take decisive action.
We deliver SOLUTIONS.
CALL. The sooner you act, the more options you will have going forward!
Loan Modification,
Repayment,
Forbearance,
Reinstatement / Cure.
Short Sale,
Deed in Lieu of Foreclosure,
Foreclosure.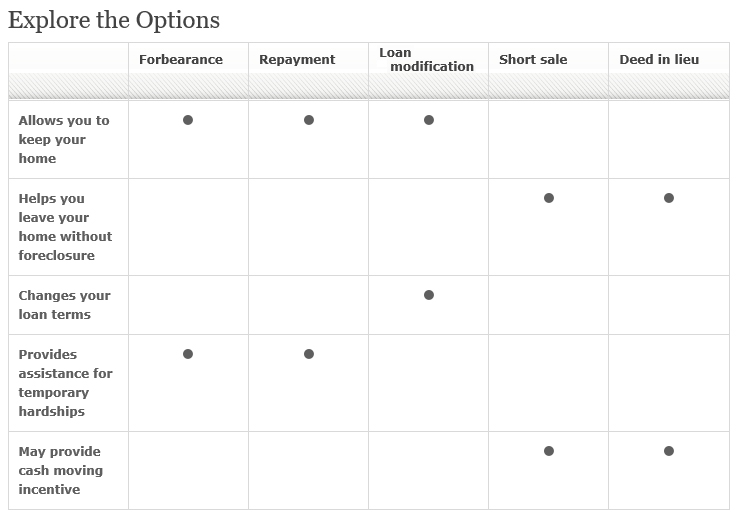 Email the docs listed below to me at email.
Let's discuss your situation.
Let's find the right option that works best for you.
Testimonials • Disclaimer • Compensation Structure
Needed Documentation
All communications and documentation provided is Confidential Attorney-Client Work Product. These documents allow me to carefully and fully assess your situation in order to discuss realistic options.
Loan Documentation
Last 2

mortgage statements

bearing FULL LOAN NUMBER
Lender demand payoff for ALL loans : these confirm what's currently owed
Promissory Note/s : these confirm who is legally responsible
Loan Disclosures : these confirm what you told lender or it told you
Essentially, the thick packet of docs given to you when the loan/s was/were funded
Income • Cash Flow • Hardship 
Financial Statement / Cash Flow RMA »
If self-employed, please also provide a YTD Profit Loss Statement »
Pay stubs, last 45 days, ALL borrowers (if W-2 employee)
If unemployed, letter signed / dated stating when work stopped & why + (if applicable) unemployment benefits statement
Bank Deposits • Tax Reporting
Last 2

Bank Statements

 » ALL pages / everything
Recent

Federal

Tax Returns –

2017

+

2018

(+

2019

when available)

W-2's, ALL schedules + Form 4506-T
If not filed, provide

Electronic Extension

for each year
I do NOT need State tax returns
HOA Documentation
Most recent HOA Dues Statement : if applicable
---
Let's TALK CONFIDENTIALLY. Attorney-Client Work Product 1, 2
The cornerstone of my approach is to help you make informed decisions.
I will explain, in plain English, the legal / tax / real estate / practical impacts of available options.
You MUST TAKE ACTION.
Do NOT ignore your lender and the letters you receive from them

!
My approach involves you in each/every step of the chosen strategy.
No matter what option is recommended, there is a good deal of work to be done.
Time is of the essence.
If you don't take action, or refuse to do so, the lender will simply take over & divest you of ownership & possession.
Doing nothing will worsen the affects on your FICO score and you may be exposed to more significant legal and tax liability.
COLLATERAL BENEFITS. When a property is sold, we address and resolve these following other concerns that may affect title:
Tax Liens (i.e., Federal, State, EDD, etc.)
Judgment ('Abstract') Liens
HOA Arrearages
---
Compensation Structure
Attorney Realtor RFA-11 and Client Representation Agreement » Look Here
---
Image: California Foreclosure Process
» How to Bounce Back After a Foreclosure