Hospitality, Retail, Office, Industrial, Special Use Properties
The past several months have been busy helping clients restructure global debt!
I have represented commercial properties exceeding $180,000,000 in value in loans with $70,000,000 in loans successfully CLOSED.
EVERY FILE I have submitted for lender consideration has been reviewed, approved, and funded!
Additionally, I list clients' commercial investment properties for sale AND representing them in new purchases / 1031 Exchanges (read below). Representing clients in my dual Attorney / Broker has proven to give them a distinct negotiating advantage not to mention immediate access to legal and tax advice!
---
Interest rates
while still historically low


are

 

on the rise

.
Are you facing loan reset or maturity?
Thinking of refinancing or purchasing a new commercial property?
I can help!
---
Want a

competitive advantage

getting your loan? Here's how.  
Remember, because I am your attorney, all conversations, documents, everything is confidential attorney-client work product.
Simply reach out to me HERE for a no obligation, no cost, 3-STEP (see below) assessment of your investment property!
We will candidly discuss your objectives, timing, and needed documentation. This is followed by a quick but precise debt analysis that may lead to a formalized engagement agreement.
Simply reach out to me HERE for a no obligation, no cost, discussion of what you are interested in selling, buying, price requirements, financials, and timing. 
If you are selling, we will have a candid discussion about the property you are selling, shape the right listing price based on financials, I will prepare a presentation package that can be shared online (i.e., CREXI), we will create a war room of review documents, etc. 
Selling and/or Buying, we will help you effectuate a 1031 Exchange. The main requirements for a 1031 exchange are: (1) must purchase another "like-kind" investment property; (2) replacement property must be of equal or greater value; (3) must invest all of the proceeds from the sale (cannot receive any "boot"); (4) must be the same title holder and taxpayer; (5) must identify new property within 45 days; and (6) must purchase new property within 180 days.
If you are buying, I will conduct a preliminary review of what's on the market that fits your financial and other needs so that we can begin the process of narrowing those properties you are interested in advancing to a Letter of Interest to start purchase negotiations.
You hold a competitive advantage in every transaction with my 30+ years seasoned expertise coupled with my attorney licensure and acumen that will carefully guide you through escrow / title, transactional documentation, and due dilgence. My personal involvement ensures you are actively participatory in every step of the important decisions that surround your investment in commercial real estate. 
Loans

– Refinance and Purchase Money
Brokerage

Services – One Stop Comprehensive Representation
Broker & Attorney
Real Estate • Legal Advice
Beyond professionally helping with refinancing existing loans, many of my clients use me in my BROKER capacity to list / market / sell their commercial investment properties then pivot to locate and purchase replacement investment properties often in a structured "1031 exchange". Clients leverage my legal and tax expertise throughout every transaction and representation.
As an example, I closed a 1031 exchange as described above. The downleg property sold was a hotel located in San Simeon and the replacement property purchased was a $10,100,000 retail center (Colonial Square) located in Bakersfield, California.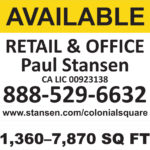 I represented my clients in the purchase of the upleg property in my

Broker capacity

I negotiated the purchase money loan

for more than $6,000,000
Throughout the entire transaction, I

represented my clients on legal and tax matters

.
I additionally negotiated the

Property Management Agreement

for a local firm to manage the 41,238 SF shopping center
---
Testimonial: 
Commercial Hotel Loan Broker 
Posted by Dhaval Panchal, Commercial investor of multiple properties
Paul was hired by our company to refinance a loan for one of our hotels. Paul is very:
Smart, extremely knowledgeable in his field of work
Responsive, picks up the phone when called or returns calls ASAP – nearly 24-7
Organized, VERY organized!!
Gets the job done with the least amount of stress to us.
He did such a great job on our first hotel we hired him to refinance our 2nd hotel as well. And then our 3rd Hotel!!!
Bottom line Paul gets the job done, pleasant to work with and is extremely knowledgeable as a Loan Broker/Attorney!!!
You care about your investments?
Are you interested in enhanced cash flow?
You want peace of mind? 
Hire Paul!