It is my honor to have the opportunity to assist my clients and to work collaboratively with my Realtor partners. I am focused on helping my clients make informed decisions that moves each one to a better place.
---
It could not have happened without Paul's expertise and persistence
Posted by Jack and Melissa Columbus, Ohio, Real Estate Sellers-Clients:
As real estate investors for 40 years in Ohio, Melissa and I thought we had experienced every challenge in buying and selling properties. We found that selling our vacation home in Santa Ynez (CA) had more issues than we could have imagined.
Through Paul's leadership we were able to address every issue, remain firm on our price and not lose the buyer over an extended period of time. We are convinced this never would have happened without Paul Stansen's counsel and for that we are most appreciative.
Great Short Sale Negotiator
Posted by Janet, a Realtor:
Paul assisted one of my clients as a short-sale negotiator.
His professionalism, expertise and attention to detail were impressive. I found his attitude to be refreshing, and he responded to emails and calls in record time.
Paul managed to get short-sale lender approval 20 days after seller accepted an offer, and the escrow closed on time 30 days later. My client has expressed to me how much she appreciates all he did to assist her with the process.
Best in the Business
Posted by a Realtor-Broker / Investor:
The sign of a good attorney, is one that creates more results than costs.
After being in the industry for years, Paul Stansen is amongst the most results driven attorney we have come across.
Since meeting Paul only a short time ago, we have already completed the acquisition of several short sale properties. In addition we have worked with Paul in developing new business with potential short sale Sellers.
These results are truly exceptional. We continue to use Paul as his expertise is second to none and we will consult with him on other legal issues regarding properties that we acquire.
Paul Stansen equals RESULTS!!!
Posted by a Realtor-Broker:
As a Real Estate agent who has experience with closing several "Short Sales" I found myself about to lose my first short sale transaction. It was discovered that there was a $42,000 judgment against the property, the buyer decided to back out, the property was scheduled for a "Trustee Sale" within two weeks and the lender refused to grant me an extension.
As a last resort, I swallowed my pride and called Paul Stansen, who had done a presentation several months earlier at our office. I did not hold out much hope that even Mr. Stansen could negotiate a successful short sale transaction with the seemingly insurmountable amount of obstacles that I had asked him to leap over!
Not only did he negotiate a settlement of $2,000 on the original $42,000 judgment, the Trustee Sale was postponed "As a direct result of Paul Stansen's track record of Professionalism" a quote from the lender's negotiator, we were able to close a success transaction after only 3 weeks of Mr. Stansen's involvement. Thank you Paul Stansen!!!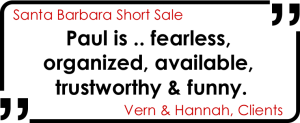 SUPERB REPRESENTATION!
Posted by Pam, a Real Estate Client:
Paul handled my complex real estate short sale with impeccable skill, navigating and negotiating with Bank of America and buyers in timely manner.
I HIGHLY RECOMMEND PAUL!
The Man on Point
Posted by Anthony Rodriguez a Real Estate Client:
Paul assisted my family with a short sale, and he saved us from disaster!
As a man, he is genuine, intelligent, and full of raw courage. His efforts have given my family a peace and stability that we have not felt for quite some time.
He responds to emails quickly and is absolutely transparent with information as well.
As I went to work each day during this difficult time, it felt great to have a warrior like Paul defending us. This Independence Day will be uniquely special one for my family, and we have Paul to thank for that. If you have to go to battle, you want Paul on point. Thanks from the bottom of my heart Paul!
Paul Seals the Deal
Posted by Debi, a Real Estate Client:
Paul was fantastic, thorough, and relentless, everything we needed to make our short-sale happen.
His expertise was unmatched and his efforts were boundless.
We truly appreciate all his efforts on our behalf.
Highly Recommended!
Posted by Mark, a Real Estate Client:
Paul saved me from losing my house to foreclosure and actually got it sold for more than I owed, allowing me to pocket a much-needed 5-figures.
I was in big trouble because I was locked into a listing agreement with a charismatic, yet incompetent, Realtor. I watched in horror as the foreclosure clock ticked down and he did nothing but bumble around.
I counted the days until I could get out of the agreement. I then immediately hired Paul with instructions to do whatever he could to save me from foreclosure, now mere weeks away. Now, after months of doing nothing, the other guy tried to confuse me with double-talk and then actually blocked our attempts to list the property!
It's situations like this that you want a Real Estate Attorney and not just a Realtor. Paul took care of that problem within a day. Without Paul, the delay tactic might have cost me my house.
Not only does he get results, he explains to you exactly and very clearly what he's doing and what the current status is.
He is unbelievably organized and also has some very useful connections with lenders, which proved to be a godsend.
Great guy, too. Having him on my side was a pleasure every single moment and his speed with dealing with the crooked Realtor saved my financial future. I give Paul my strongest possible endorsement.